Profile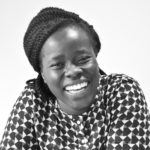 Diana Nyabundi
Candidate CV questions (extra)
Education:

Nairobi Primary, Precious Blood Riruta, University of Nairobi, Open University

Qualifications:

Bsc. Biochemistry, Msc. Biochemistry

Work History:

University of Nairobi, Institute of Primate Research

Current Job:

PhD student

Employer:

KEMRI-Wellcome Trust Kilifi
About Me

My work

Im a PHD student looking for ways to make more effective vaccines

My Typical Day

Conducting experiments and analyzing the data but more often than not trying to make experiments work
My Interview

How would you describe yourself in 3 words?

outgoing, adventurous, pragmatic

What was your favourite subject at school?

Biology

What did you want to be after you left school?

I took french classes at Alliance francaise after high school

Were you ever in trouble at school?

Ofcourse!!! I was always top five in the noisemakers list

If you weren't a scientist, what would you be?

Doctor

Who is your favourite singer or band?

This changes all the time..right now its a band called Need to breathe

What's your favourite food?

Chapo and beans

What is the most fun thing you've done?

Quad biking in the desert and windsurfing..both were loads of fun

If you had 3 wishes for yourself what would they be? - be honest!

Eliminate disease, reverse climate change, travel around the world, eat what I want without getting fat!!

Tell us a joke.

The past, present and future walked into a bar. It was tense.
---
---